Now free in the App Store and Google Play Store
The HOOTS BATTERY app
✔ Innovation: Integrate the vehicle battery into the WiFi via app and now control it worldwide.
✔ Innovation: Measurably diagnose power consumption in amperes and notice silent consumers
✔ Battery voltage in volts, device temperature, humidity, WiFi connection status
✔ Fleet monitoring in one app / unlimited number of vehicles

✔ Shows you LIVE the battery values ​​of your vehicle during the Bluetooth connection
✔ Battery monitoring even when the circuit breaker/main switch is flipped
✔ Monitor the charging process of a battery charger
✔ very low power consumption thanks to energy saving mode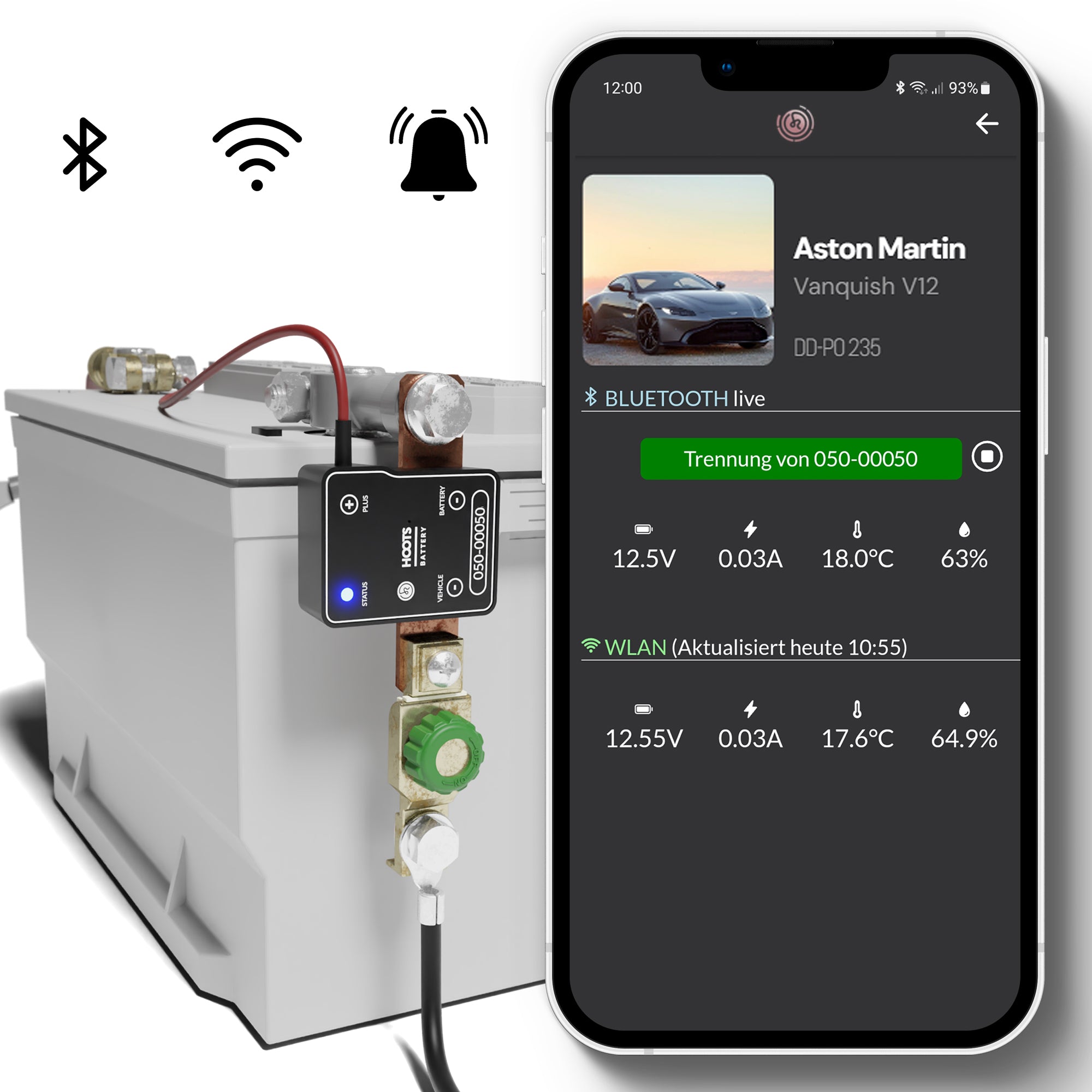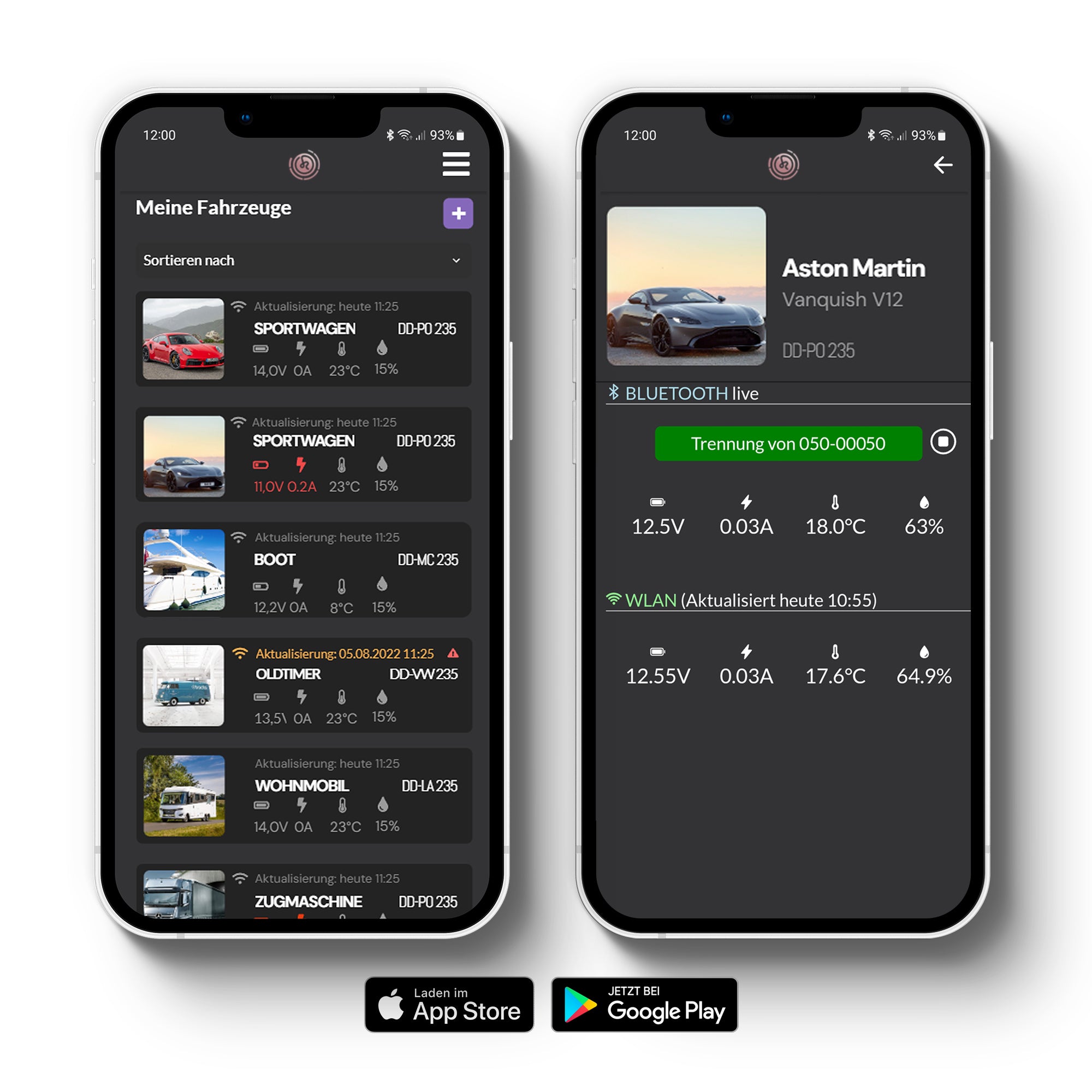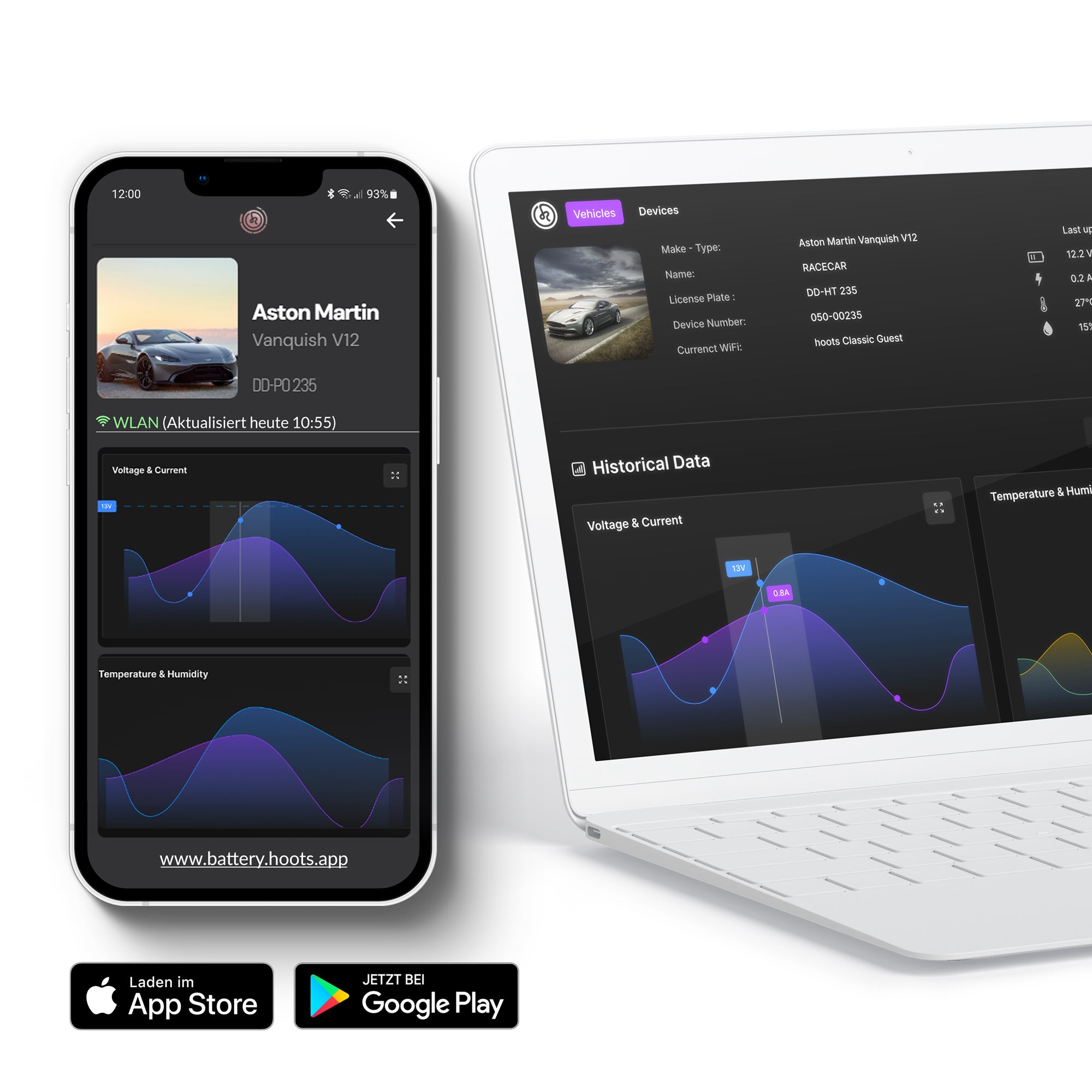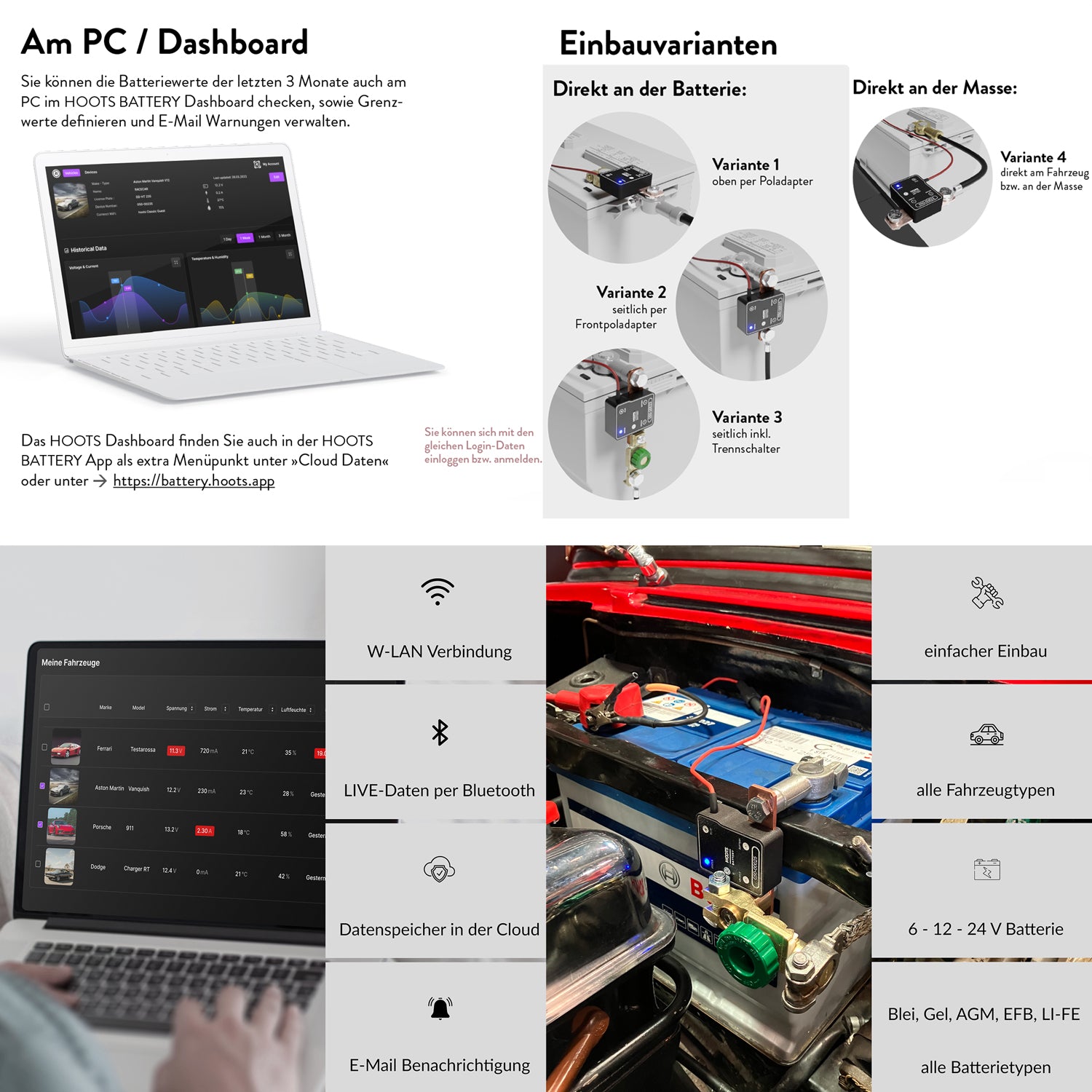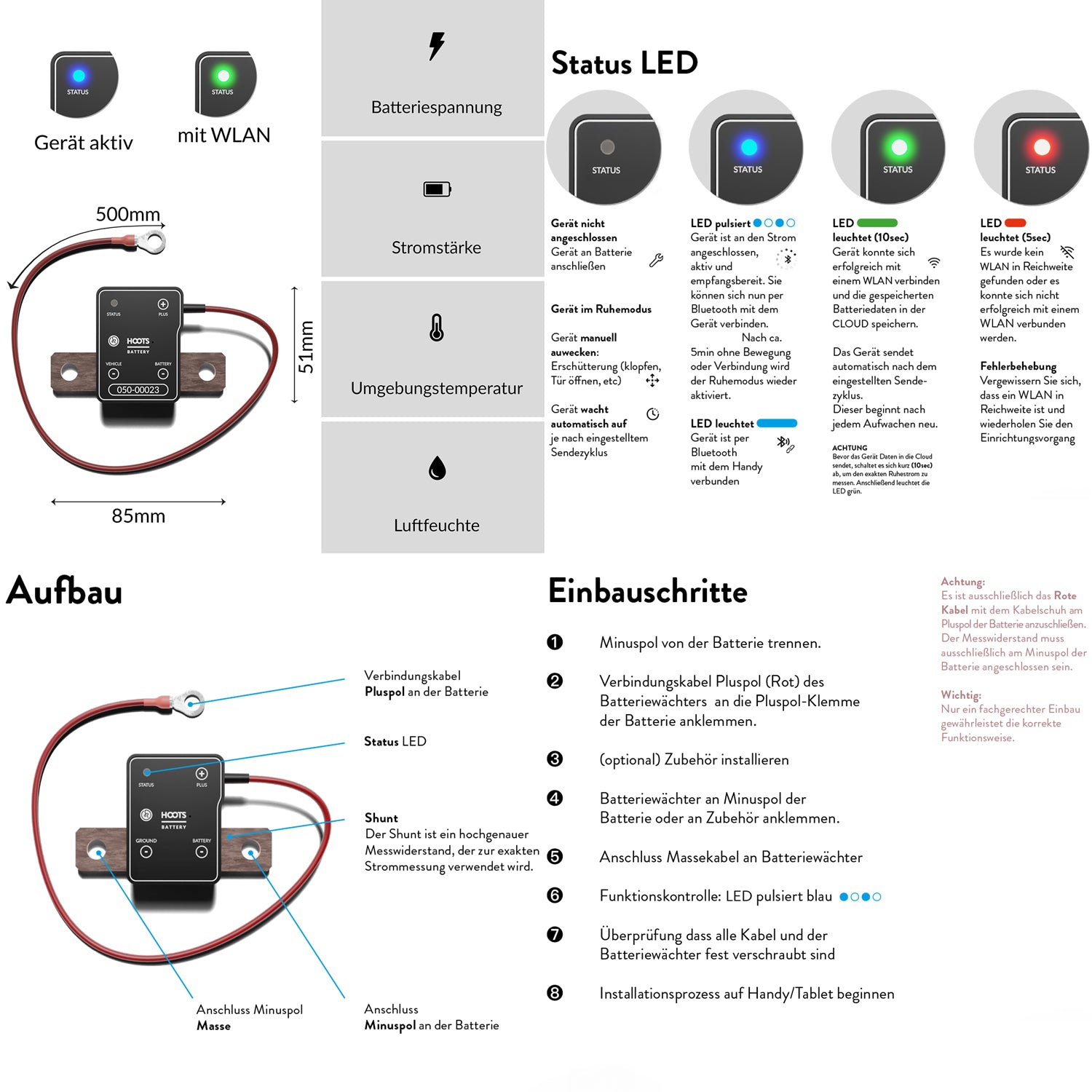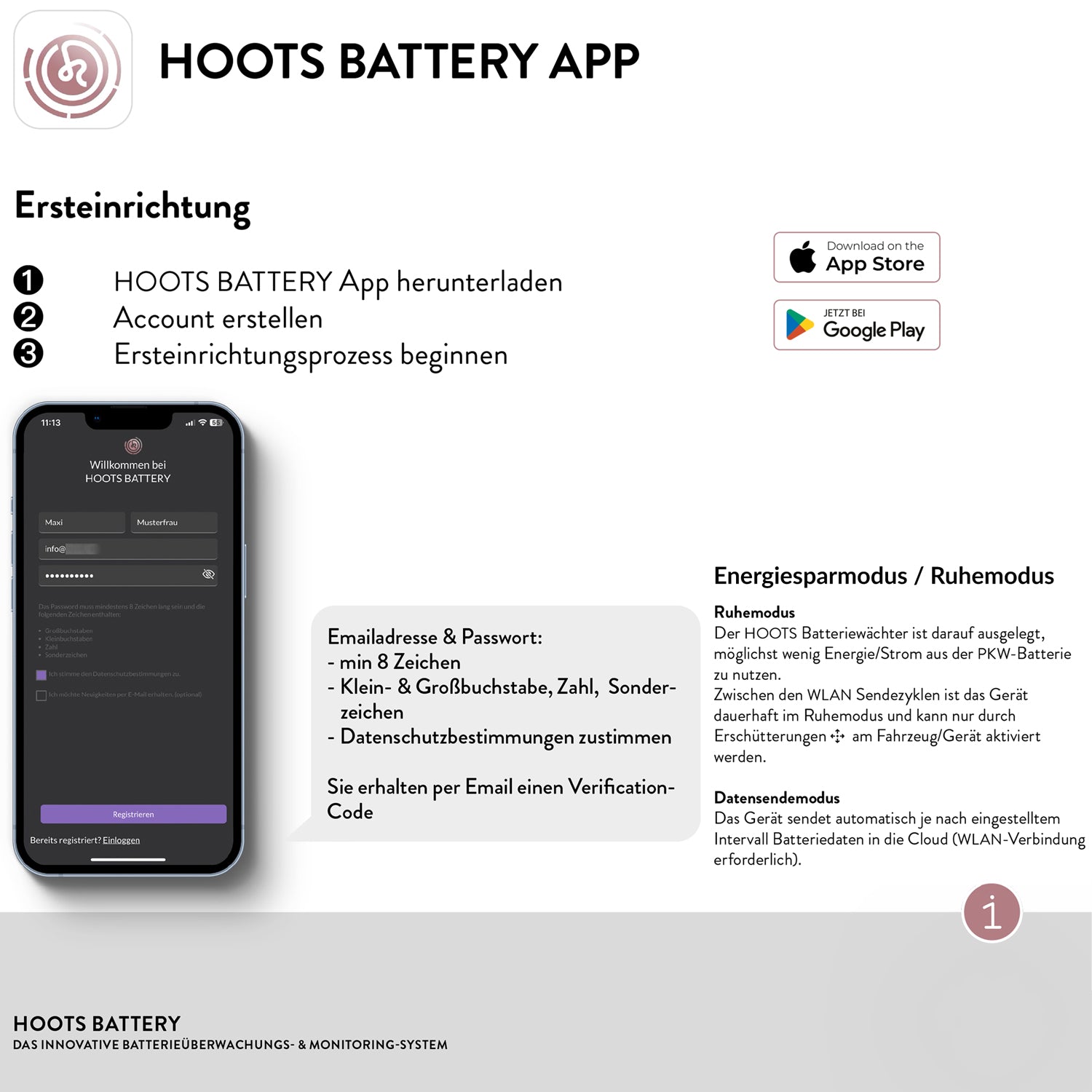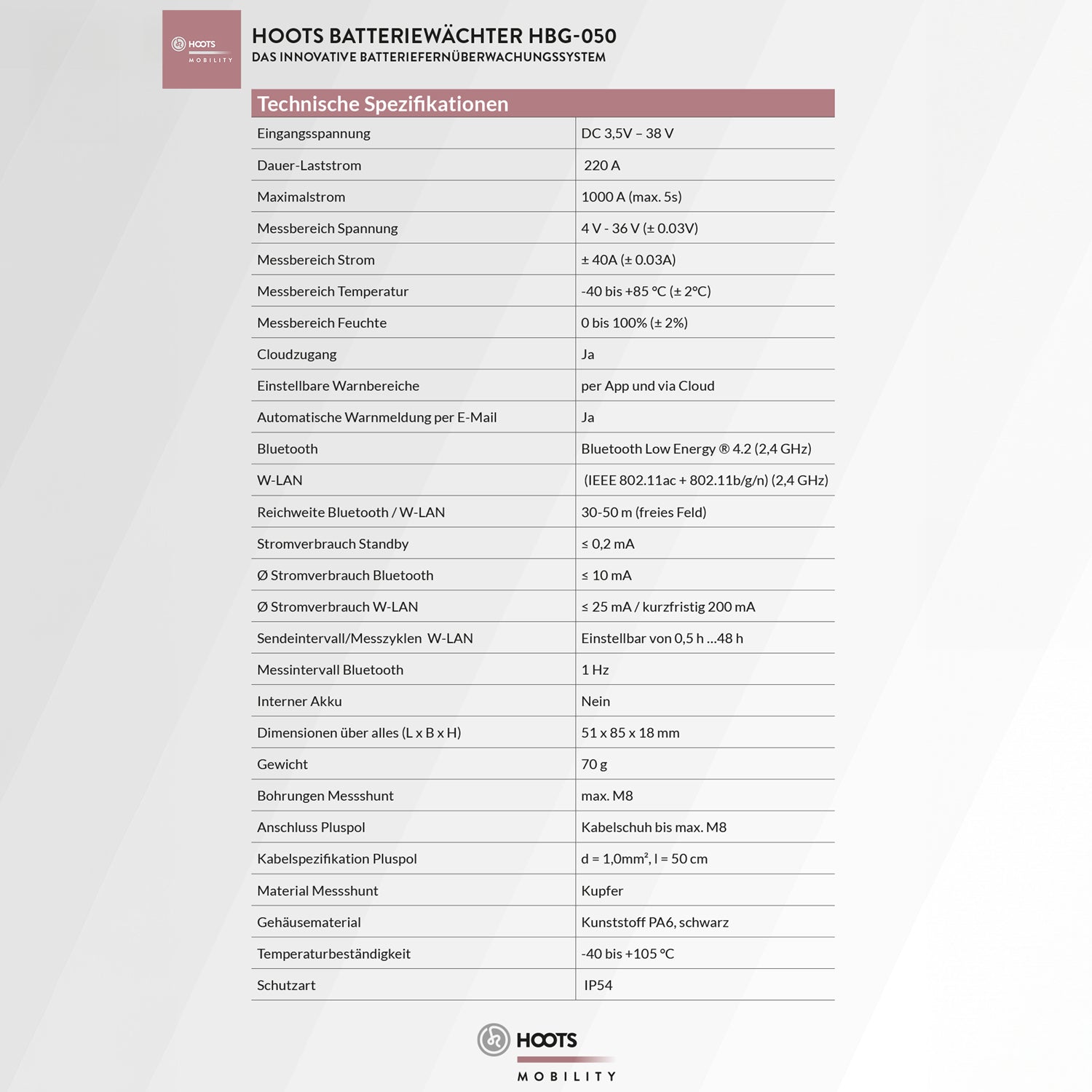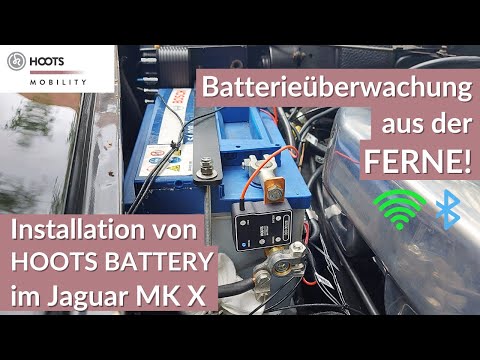 6V - 12V - 24V
Volts & Amps
WiFi & Bluetooth
app
HOOTS WLAN Battery-Guard as battery monitoring with cloud, WiFi and measuring shunt.

With HOOTS BATTERY - the innovative battery monitor and WLAN Battery-Guard, you can monitor your 6V - 12V - 24V vehicle batteries remotely via the battery app or on the PC/desktop.

HOOTS innovations : Battery monitoring and WLAN connection with BATTERY CLOUD as well as power consumption measurement in amperes. Automatic limit value warning via email and freely adjustable parameters.

HOOTS BATTERY app : You can connect to HOOTS BATTERY via Bluetooth on the vehicle and use it as a LIVE battery tester or battery monitor.

WiFi: Connect HOOTS BATTERY to one or a variety of WiFi networks. This makes remote monitoring possible as a battery monitor.

HOOTS cloud storage : The battery data is available for 3 months on a desktop PC or smartphone free of charge.

Scope of delivery : 1x HOOTS BATTERY battery monitor without further accessories | App for iOS & Android.
You can find suitable accessories such as negative battery pole clamp / negative pole / front pole adapter / battery isolator switch separately in our range: https://batterieok.de/collections/zubehor

In the free app version you will already find the following options:
- Connection & monitoring via WiFi & Bluetooth
- Battery values ​​such as amps, volts, temperature & humidity
- Limit warnings via email
- Cloud storage: View battery data for 3 months in retrospect on your desktop PC or smartphone
- the HOOTS BATTERY app is available for iOS & Android
HOOTS WLAN Battery Guard
HOOTS battery monitor for all purposes
The HOOTS battery monitor is ideal for car and vehicle battery monitoring as well as for 6V, 12V, 24V and 36V battery systems, each with the option of remote monitoring. For example, you can monitor your boat, motorcycle, construction machinery fleet or your solar island solution or balcony power plant via app.
Do you have any questions about the HOOTS battery monitor? We are happy to give an answer.
Our team is available to answer all your questions.

Telephone: +49 351 81041406
Email: battery@hoots.de
How is HOOTS BATTERY installed?

HOOTS BATTERY is installed between the ground terminal (negative terminal) of the battery and the ground point (black/brown ground cable) on the vehicle. In addition, a cable is attached to the positive pole of the battery using a cable lug. Suitable mounting material and optional connection options can be purchased in the shop.

IMPORTANT: HOOTS BATTERY must be installed in front of a circuit breaker / main switch and be permanently connected to the positive and negative poles of the battery.
Which radio connection do I need?

HOOTS BATTERY is set up and the live data display is done via Bluetooth. The stored data is sent to the BATTERY Cloud via WLAN.
Does HOOTS BATTERY have reverse polarity protection?

Yes, but if you swap the negative and positive poles, the device will not work.

Under no circumstances should you mount the negative pole and the positive pole at the respective ends of the copper shunt!
How long can the data be stored?

You can view the battery data for up to 3 months in the data cloud free of charge.
Is an additional power supply necessary?

No, HOOTS BATTERY is powered by the battery. The current consumption is only 20 MüA, so the battery is not drained.
What is the quiescent current of the HOOTS BATTERY system?

The battery monitor has one
Monitoring mode with a current consumption of 0.3 mA.
Which batteries is HOOTS BATTERY approved for?

For all vehicle batteries from 6V, 12V to 24V. Lead, gel or AGM batteries can be monitored. Li-ION batteries can also be monitored.
Battery monitor 12 V shutdown with HOOTS BATTERY?

Security system: It is not possible to switch off the vehicle battery remotely, but HOOTS BATTERY will show you the WLAN status. If the vehicle is no longer connected, it has either been removed or the WiFi is not working.
Can I read the battery parameters without WiFi?

Yes, via Bluetooth within a radius of approx. 10-15m.
Monitoring the battery charger/maintenance device with HOOTS

HOOTS BATTERY also works with a connected battery charger or battery maintenance device such as CTEK. You can safely monitor the battery charging process (volts, amps, temperature) remotely via WiFi or monitor/control the charger on the vehicle via Bluetooth.
Can I also use HOOTS BATTERY with a circuit breaker / main switch?

HOOTS BATTERY also works with circuit breaker / main switch. However, the circuit breaker must be connected after the HOOTS BATTERY system. As long as HOOTS BATTERY has a direct connection to the negative and positive poles of the battery, you can continue to measure the battery voltage (volts), device temperature and humidity even with the circuit breaker flipped.
What current load is the HOOTS BATTERY measuring shunt designed for?

HOOTS BATTERY is designed for a permanent current draw of 200 amps or a short-term load of 5 seconds with 1000 amps.
What power consumption occurs when transmitting system data via WLAN / cloud?

The system briefly requires 20 mA to transmit the system data to the cloud or to the WLAN network.
Can the HOOTS BATTERY also be connected to the high-voltage network of an electric vehicle?

No, commissioning in the high-voltage electrical system is expressly not possible and will result in damage to the battery monitor and possibly also a defect in the vehicle.
Can I also use HOOTS BATTERY with built-in battery terminal clamps or clamp clamps?

As long as HOOTS BATTERY has a direct connection to the negative and positive poles of the battery, you can continue to use it
Measure battery voltage (volts), device temperature and humidity.
We recommend using circuit breakers/main switches for this.