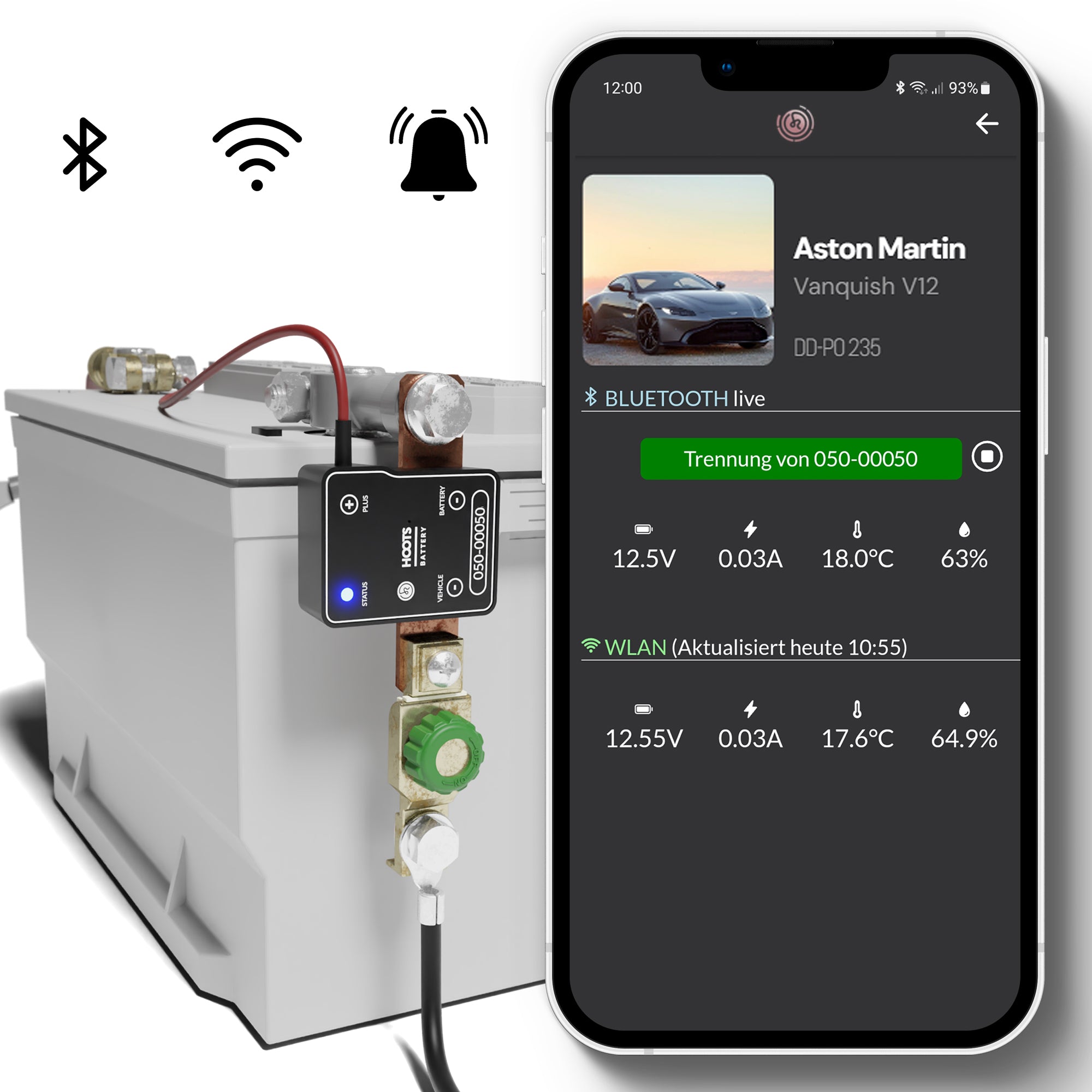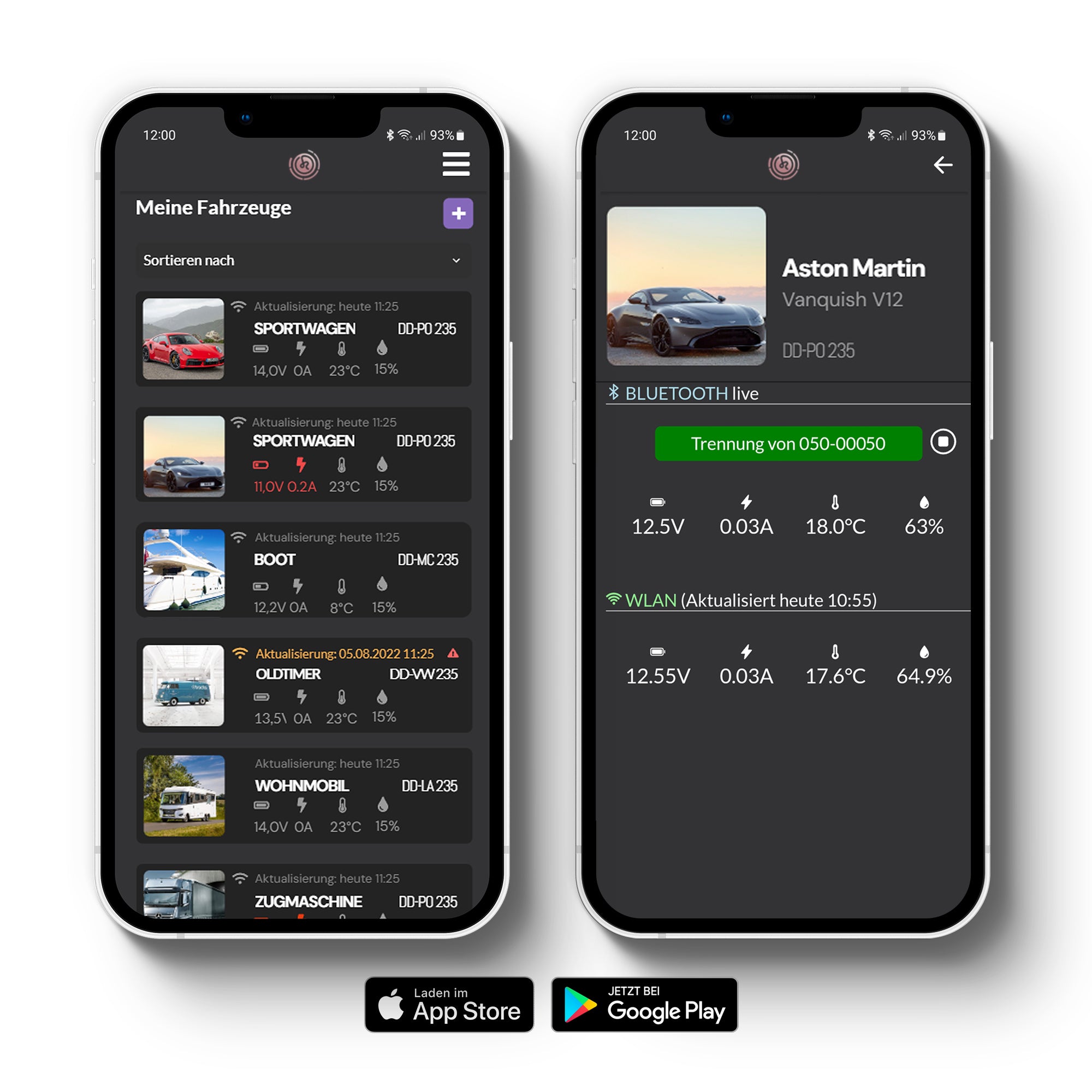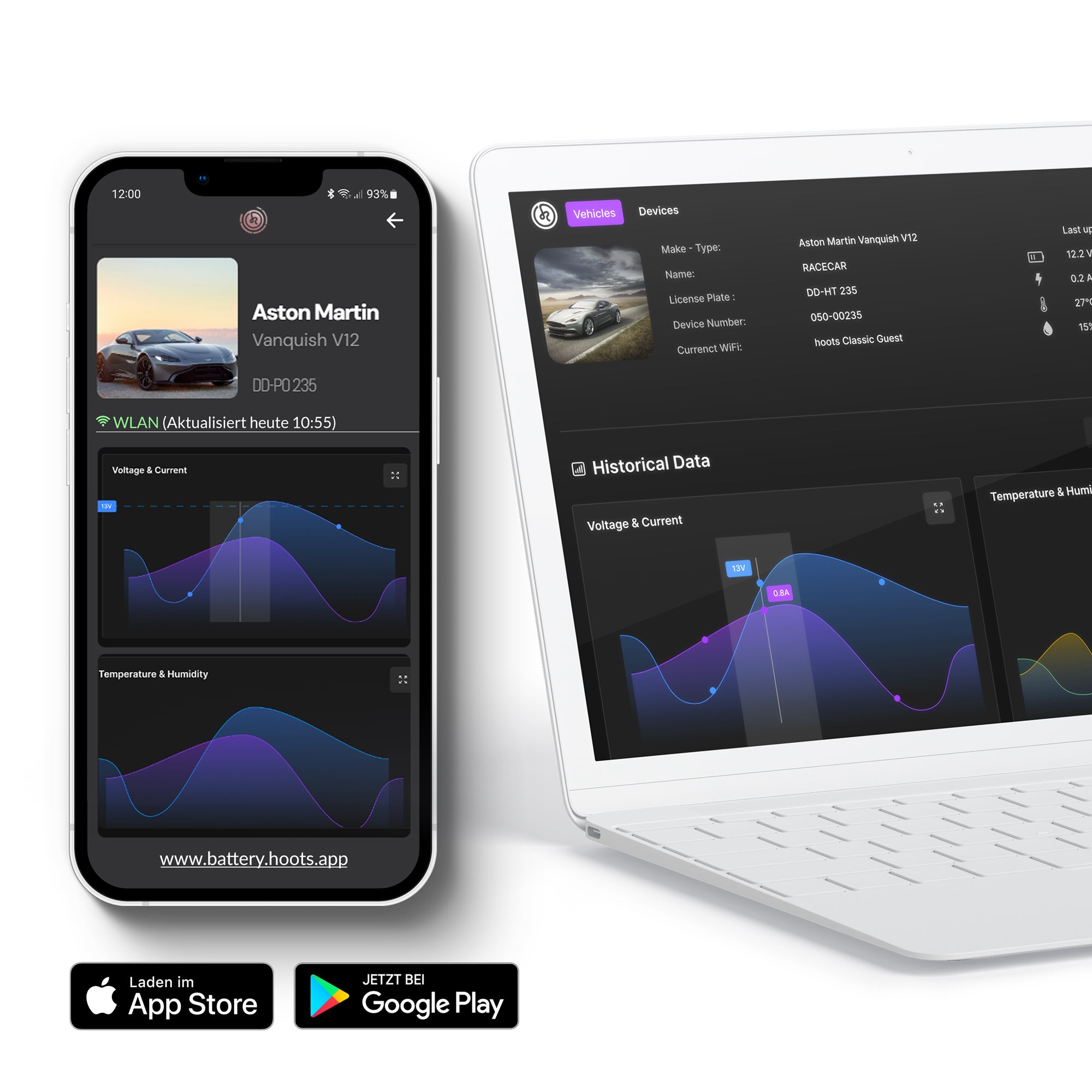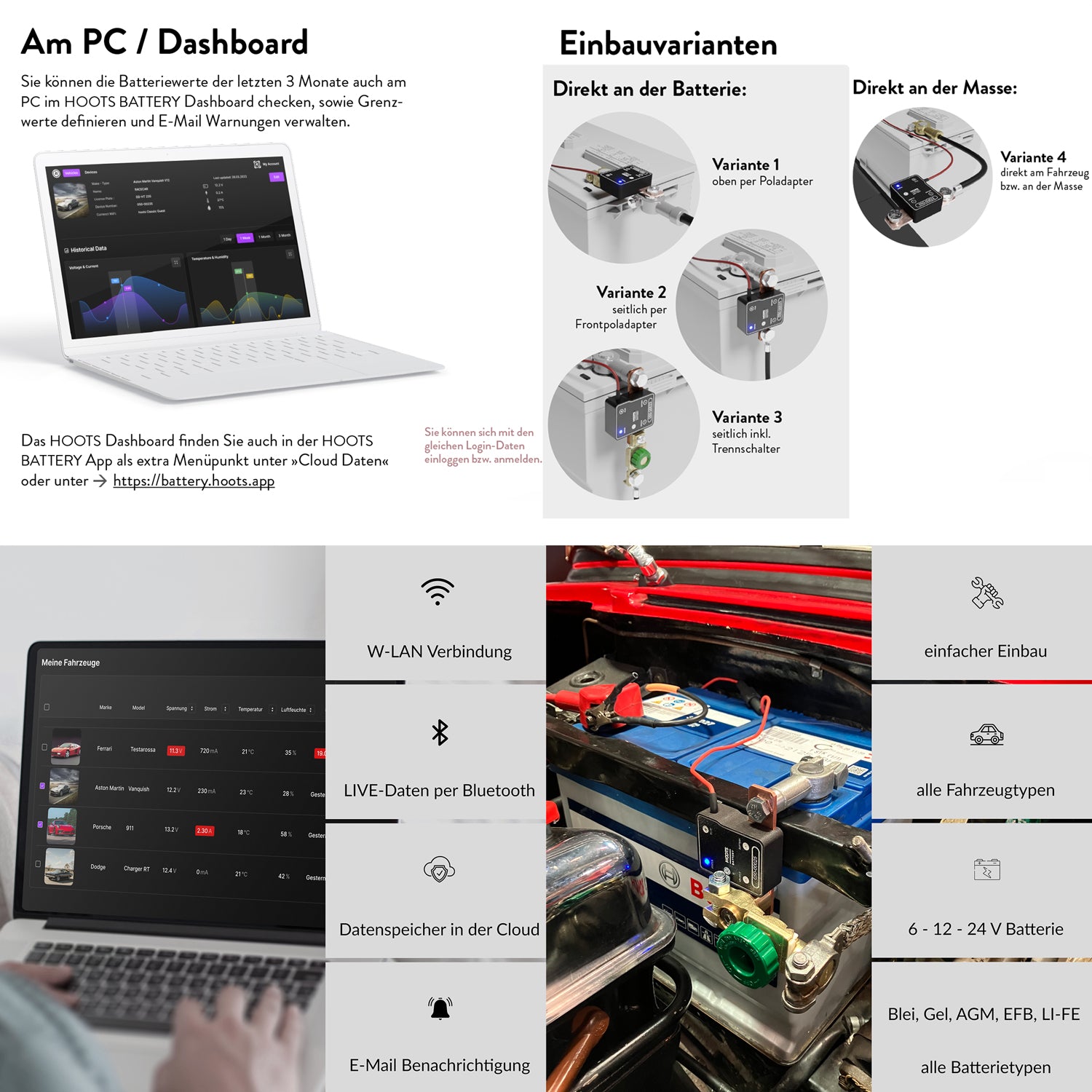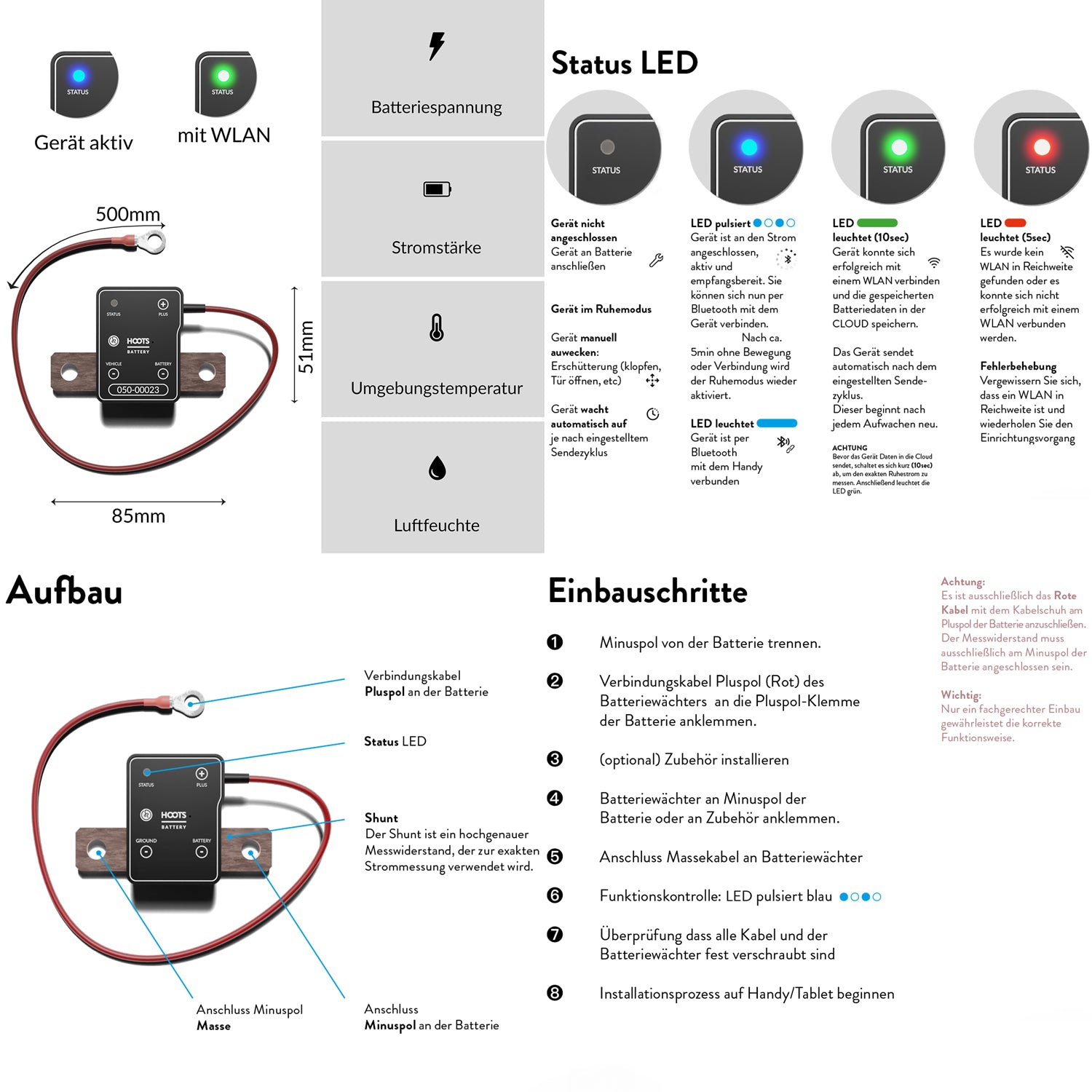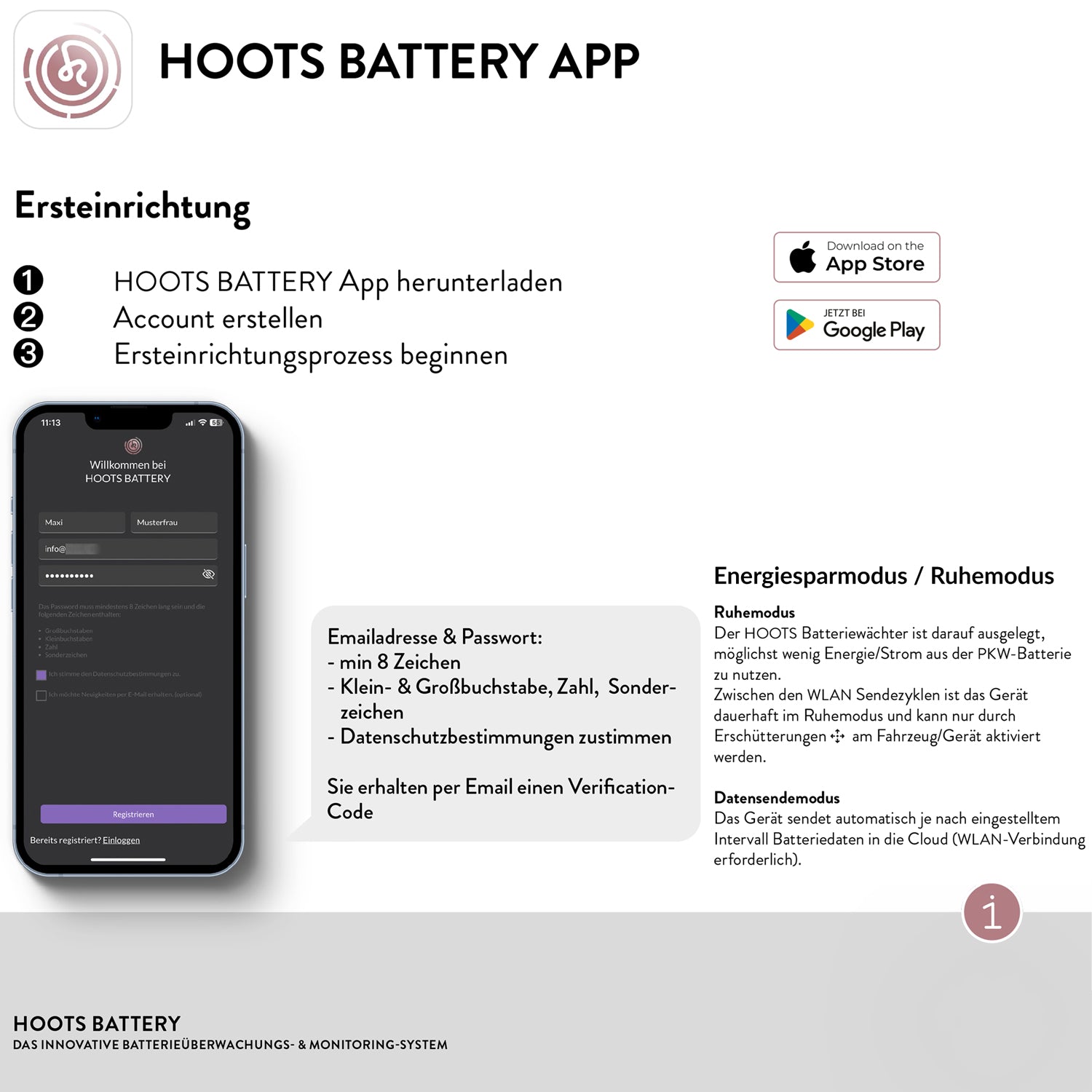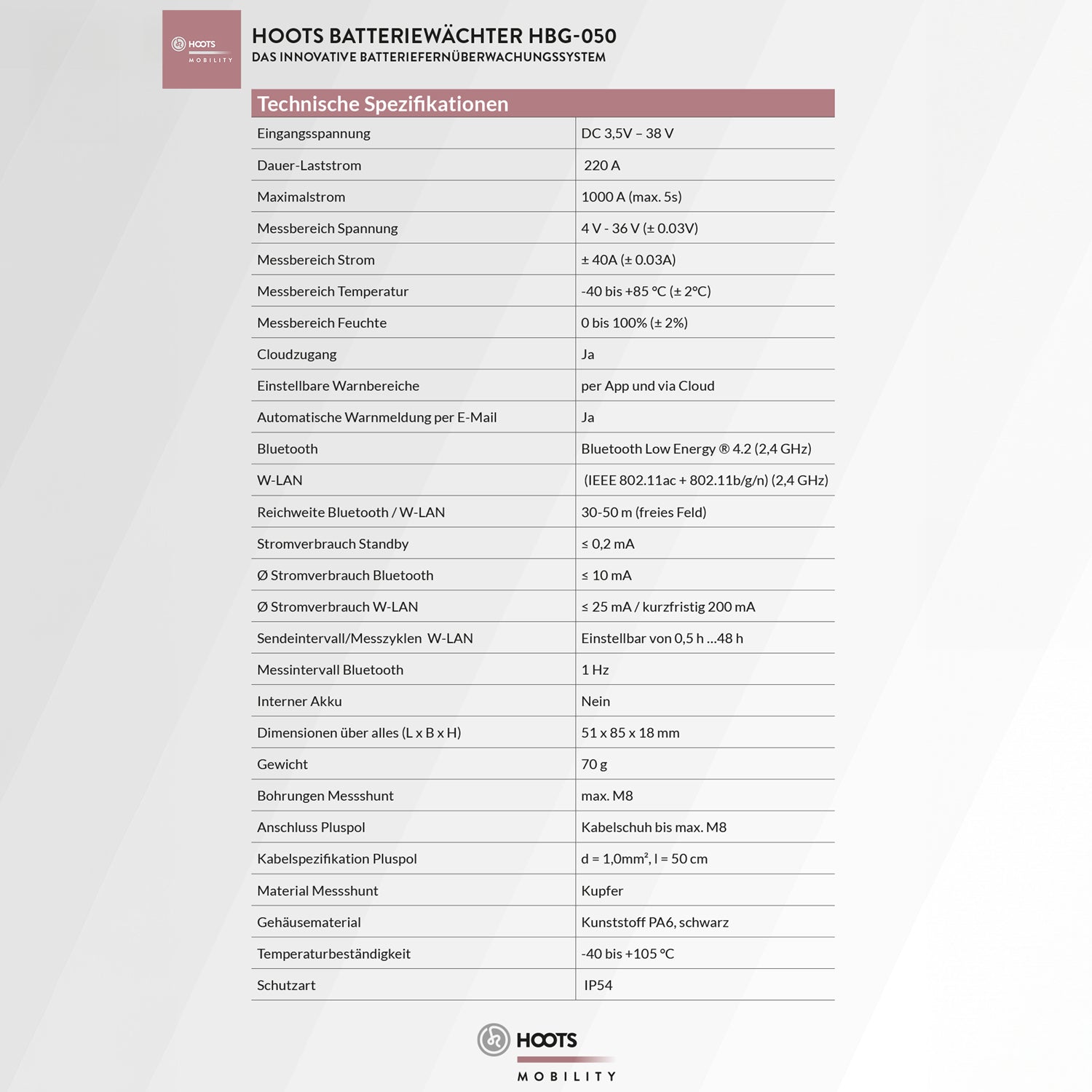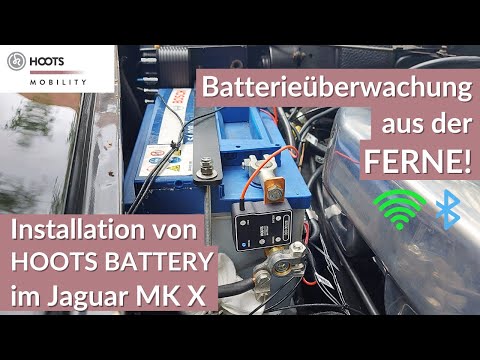 6V - 12V - 24V
Volts & Amps
WiFi & Bluetooth
app
HOOTS BATTERY - Battery monitor WLAN Battery-Guard with Cloud 6V 12V 24V
HOOTS WLAN Battery-Guard as battery monitoring with cloud, WiFi and measuring shunt.

With HOOTS BATTERY - the innovative battery monitor and WLAN Battery-Guard, you can monitor your 6V - 12V - 24V vehicle batteries remotely via the battery app or on the PC/desktop.

HOOTS innovations : Battery monitoring and WLAN connection with BATTERY CLOUD as well as power consumption measurement in amperes. Automatic limit value warning via email and freely adjustable parameters.

HOOTS BATTERY app : You can connect to HOOTS BATTERY via Bluetooth on the vehicle and use it as a LIVE battery tester or battery monitor.

WiFi: Connect HOOTS BATTERY to one or a variety of WiFi networks. This makes remote monitoring possible as a battery monitor.

HOOTS cloud storage : The battery data is available for 3 months on a desktop PC or smartphone free of charge.

Scope of delivery : 1x HOOTS BATTERY battery monitor without further accessories | App for iOS & Android.
You can find suitable accessories such as negative battery pole clamp / negative pole / front pole adapter / battery isolator switch separately in our range: https://batterieok.de/collections/zubehor

In the free app version you will already find the following options:
- Connection & monitoring via WiFi & Bluetooth
- Battery values ​​such as amps, volts, temperature & humidity
- Limit warnings via email
- Cloud storage: View battery data for 3 months in retrospect on your desktop PC or smartphone
- the HOOTS BATTERY app is available for iOS & Android
---
---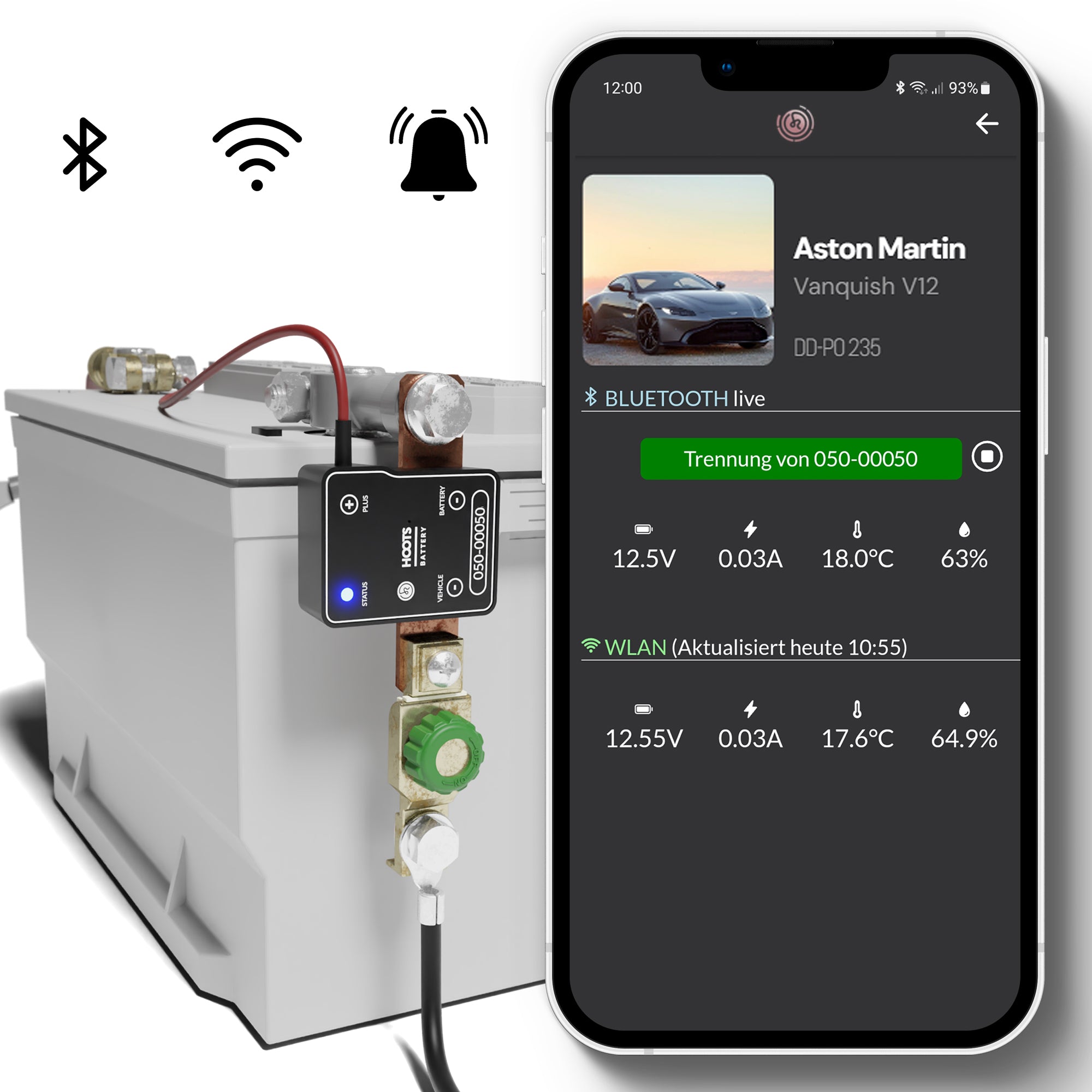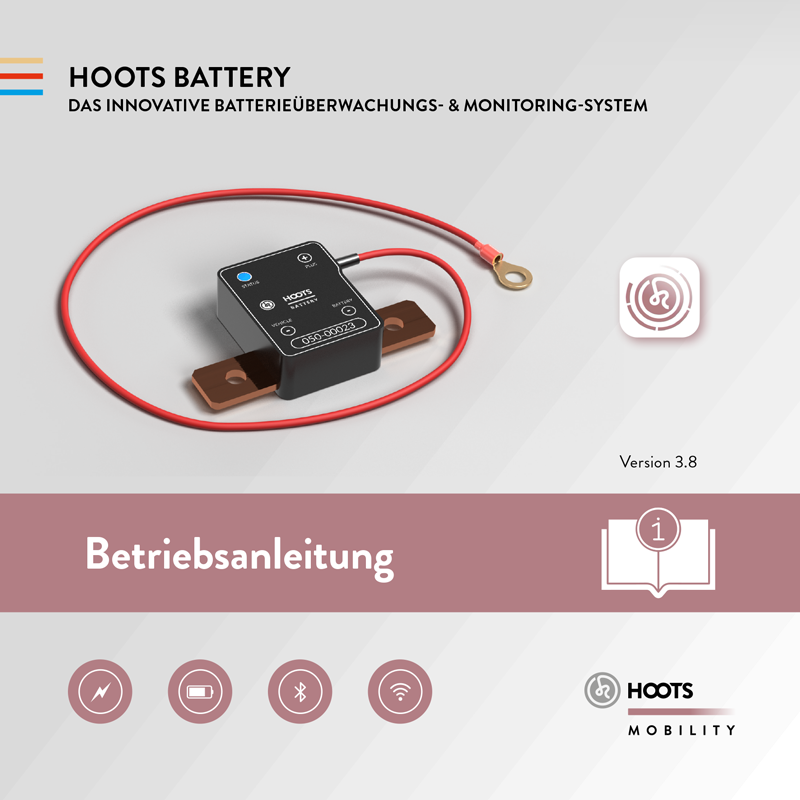 1 out of 10
Battery monitor operating instructions & functionality
You will find all the important information in the operating/operating instructions
Information including safety, data sheet, installation, app usage and remote battery monitoring via WLAN / Bluetooth connection and data cloud.
Complete instructions as PDF download
HOOTS BATTERY as a battery monitor promotes an extension of the battery life through continuous monitoring of the battery values ​​via WLAN and individual email limit warning.

The following values ​​are transmitted: Battery voltage in volts / power consumption in amperes / humidity in percent / device temperature in °C / WLAN status. You can also freely define limit value parameters for the battery voltage for battery monitoring.
Can also be used as a measuring resistor, ammeter or battery shunt. You can also receive excellent measured values ​​via remote monitoring when used for balcony power plants and mini PV systems .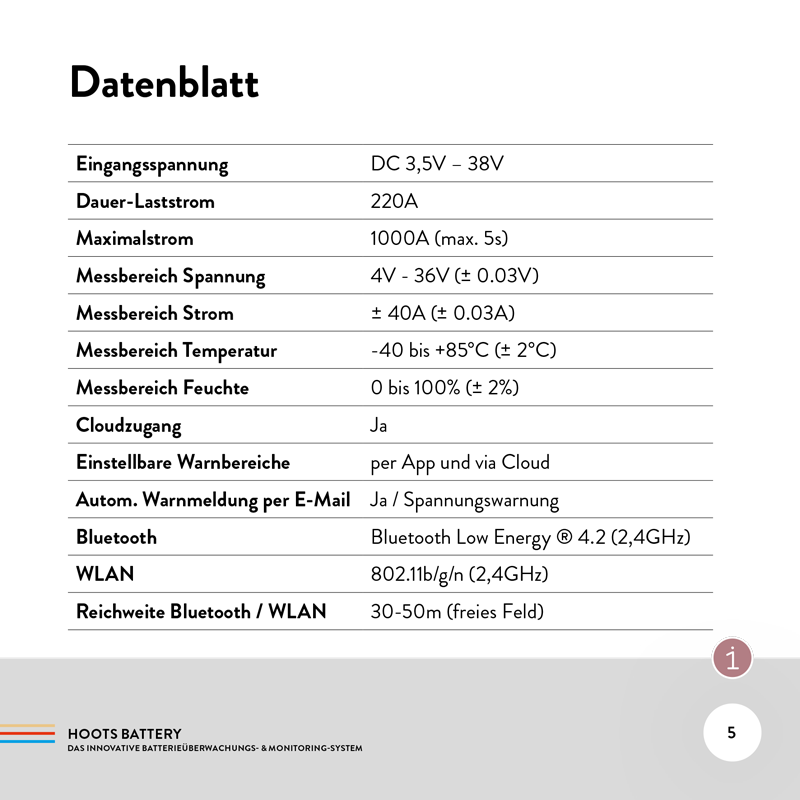 2 out of 10
data sheet
HOOTS BATTERY is designed for a permanent current draw of 200 amps or a short-term load of 5 seconds with 1000 amps .
Can be used as a battery tester, voltage monitor and battery measuring device for lead-acid batteries (GEL, AGM, EFB) or lithium batteries (LiFePO4).
The measuring range and display range is +/- 40 amps. This allows you to precisely diagnose silent consumers or monitor battery charging. The measurement accuracy is 20 milliamperes (mA).
In the multi-page data sheet you will find all the necessary values, key figures, dimensions and parameters of the WLAN battery monitor from page 5 onwards.

Complete instructions as PDF download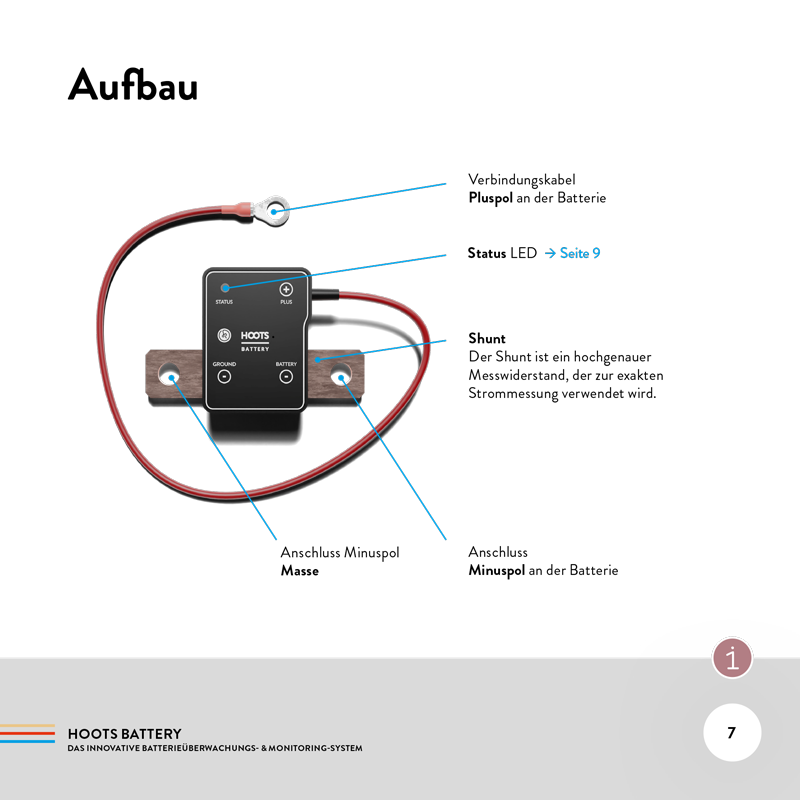 3 out of 10
Structure & components
HOOTS battery monitor
Dimensions : 85mm x 51mm x 18mm
Weight : 65 grams
Vehicles/battery systems: HOOTS BATTERY is perfect as a battery tester for remote vehicle monitoring of newer cars, vintage cars, sports cars, motorcycles, motorhomes/campers, caravans, trucks, construction machinery and solar island systems/photovoltaic systems.
The temperature sensor & humidity sensor provides additional security when monitoring RVs and boats in your winter storage. Emergency power generators / industrial engines / diesel generators (diesel engines) / power generators can also be read and monitored via WLAN.
The structure and components of HOOTS BATTERY including measuring shunt can be found from page 7.

Complete instructions as PDF download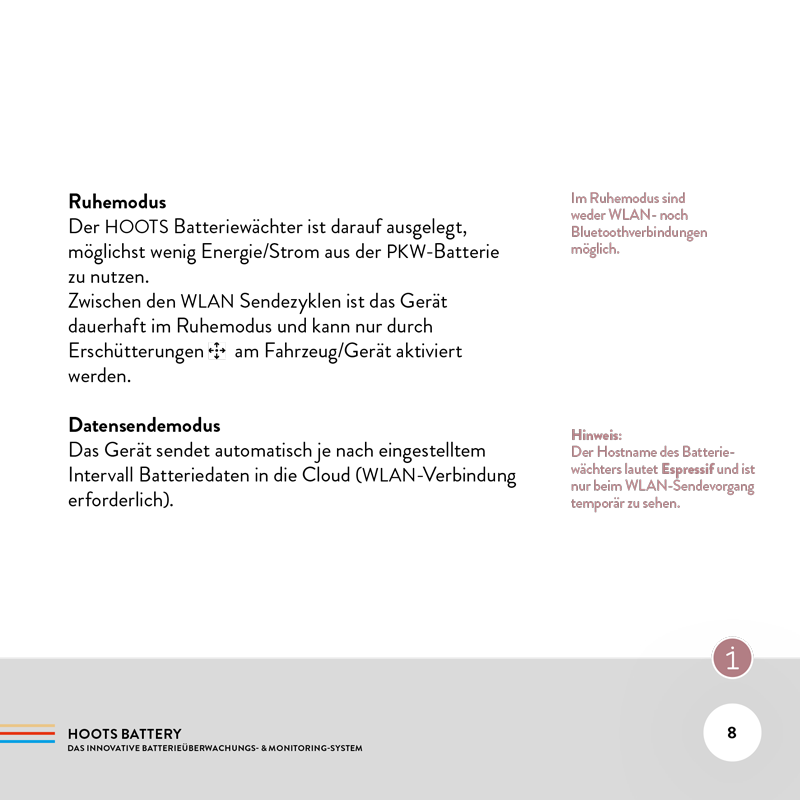 4 out of 10
Power saving mode/sleep mode
For the most effective and energetically efficient possible
Battery monitoring is an energy saving mode developed at HOOTS
been. Complete instructions as PDF download

HOOTS BATTERY energy-saving mode How it works: The HOOTS battery monitor is designed to use as little energy/current as possible from the car battery. For this reason, the battery monitor was equipped with a shock sensor that actively puts the Battery-Guard into energy-saving mode when idle.

Energy saving mode : After 4-5 minutes, without movement and an existing Bluetooth connection, HOOTS BATTERY switches to energy saving mode and only activates when there is movement on/in the vehicle.

Waking up or device activation: e.g. open the door, open the hood, tap the battery monitor with your finger. If the device is active, the status LED flashes BLUE and it is possible to connect via Bluetooth and the battery values ​​are displayed LIVE. HOOTS BATTERY remains active during an existing Bluetooth connection.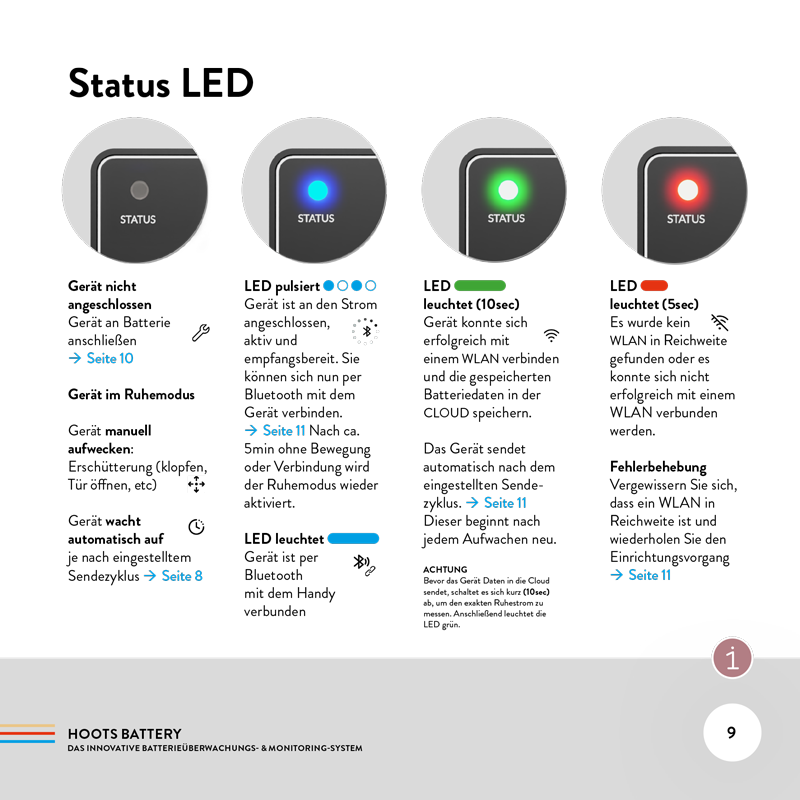 5 out of 10
Status LED - RGB
The status LED informs you about the processes, activities,
Bluetooth connections and WLAN transmission intervals
Battery monitoring system.
Shutdown/send cycle:
Shortly before switching off into energy saving mode, HOOTS BATTERY sends the current battery values ​​with a GREEN status LED briefly via WLAN and automatically updates the battery values ​​to the app/cloud every 6 hours. Between the sending intervals, HOOTS BATTERY is in energy saving mode, saves electricity and is NOT included connected to the WLAN or Bluetooth.
The HOOTS BATTERY Guard is not permanently connected to WiFi and Bluetooth.
The complete battery values ​​are updated in the BATTERY Cloud every time you arrive or connect to the network and every 6 hours and can be accessed worldwide in the app.
The integrated battery shunt enables power consumption to be measured. This allows you to diagnose silent consumers or leakage currents.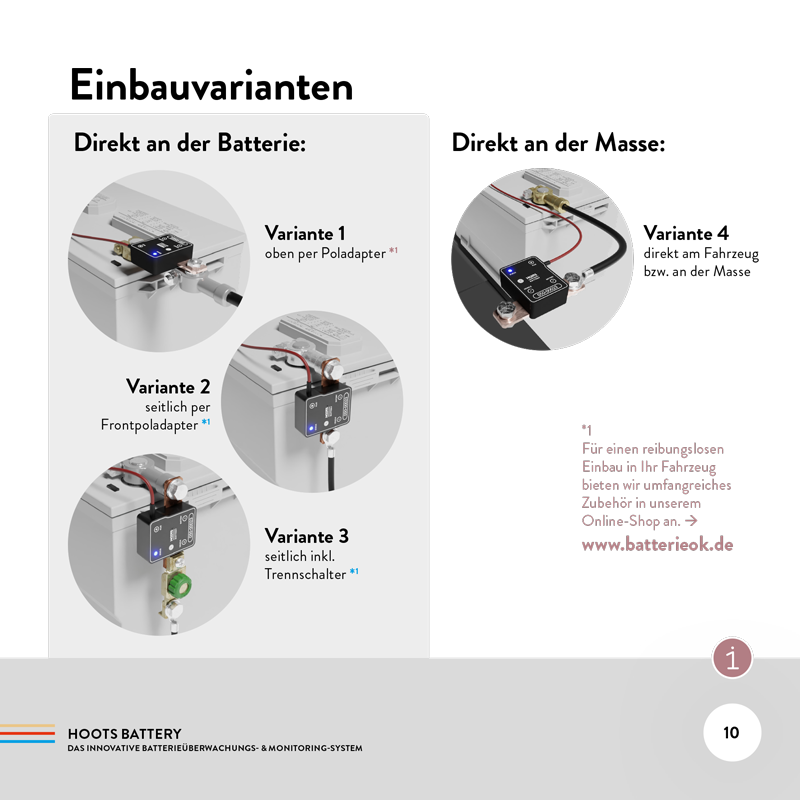 6 out of 10
Installation variants/installation
Depending on the type of battery, type of installation, vehicle or intended use,
You will find the appropriate installation variants as installation suggestions
on page 10. Matching accessories are available in our shop.

Complete instructions as PDF download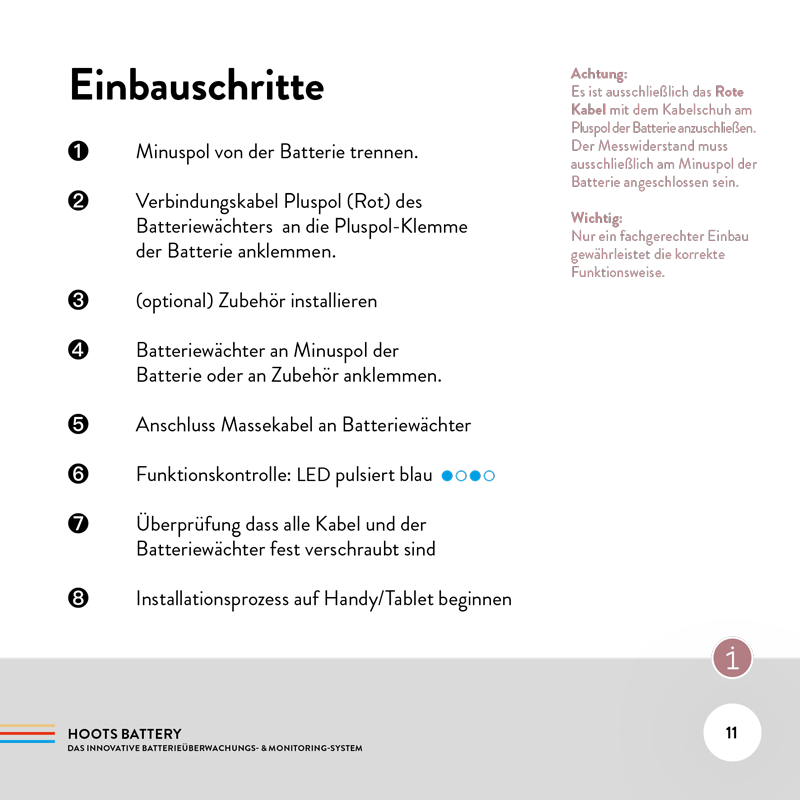 7 out of 10
Installation steps / installation instructions
Please follow the installation instructions and sequence exactly. Just one
Correctly installed battery monitor reliably secures the
Remote battery monitoring via APP and cloud.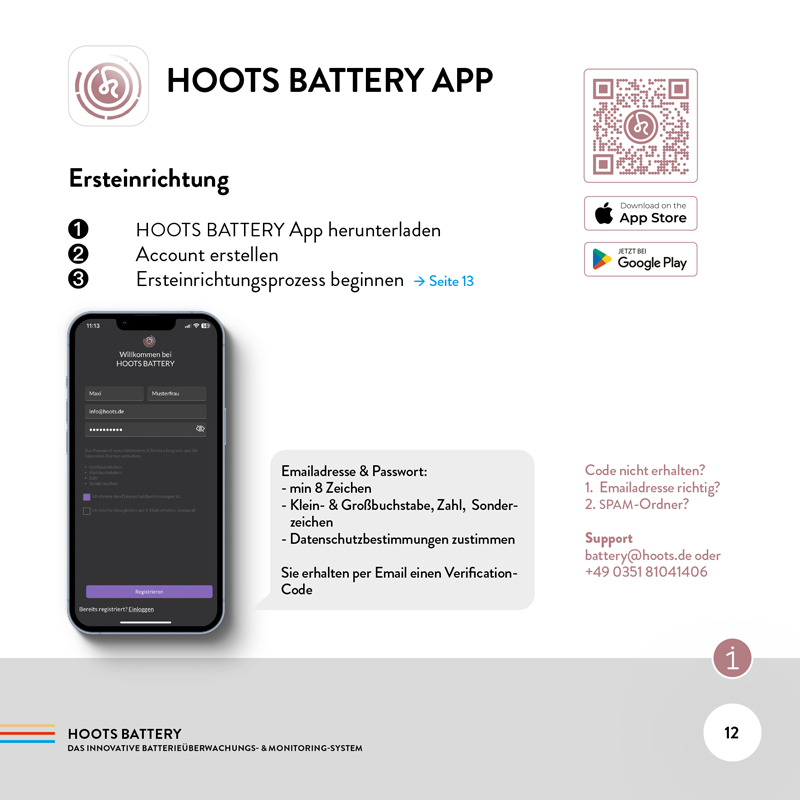 8 out of 10
HOOTS BATTERY APP
After installing the device, start with the initial setup
HOOTS BATTERY app on smartphone/tablet .

The app can be found free of charge for iOS and Android operating systems in the App Store and Google Play Store . The exact description can be found on page
12.

Complete instructions as PDF download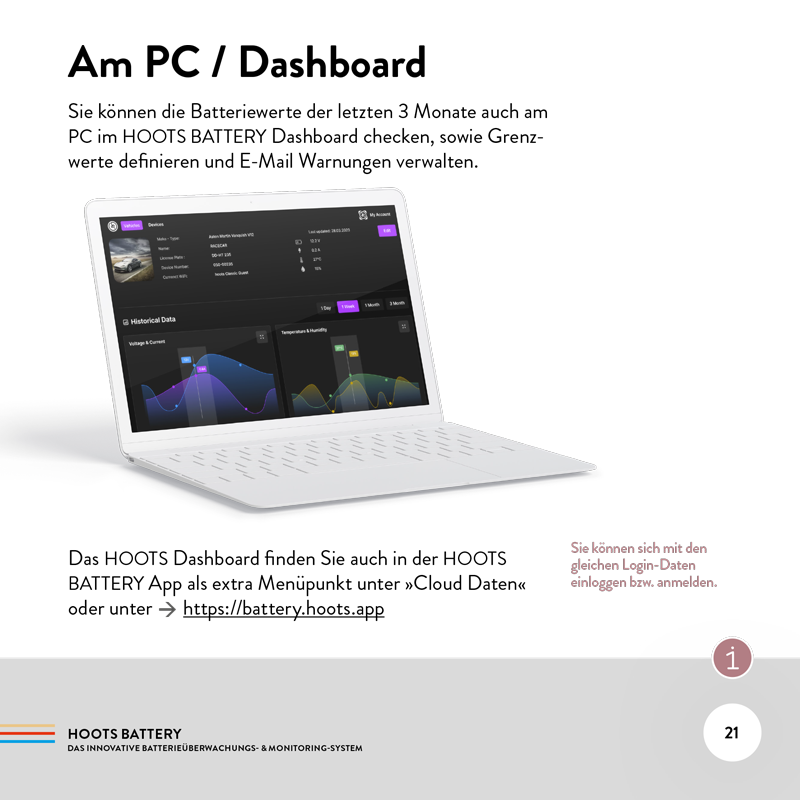 9 out of 10
Access the battery data cloud on the PC, dashboard and in the app
You can find the historical battery data in your battery data cloud on your PC or smartphone at: https://battery.hoots.app
HOOTS' cloud data offering does not require any mobile phone fees.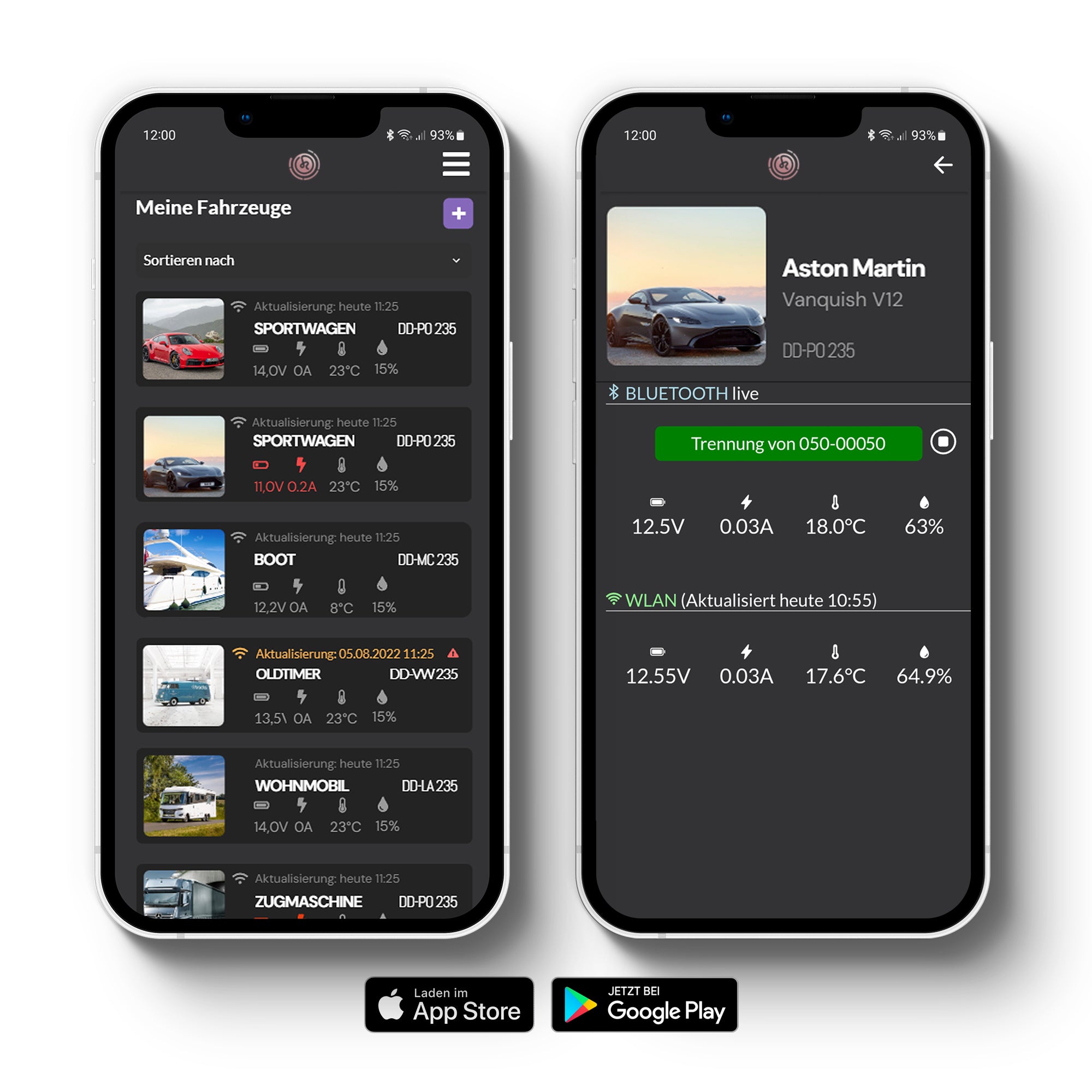 10 out of 10
Battery monitor for digital fleet monitoring
With other HOOTS BATTERY systems, your entire fleet can be monitored. The HOOTS BATTERY app offers an optimal solution for monitoring and managing your fleet or solar/PV system . With the unlimited number of vehicles, you can manage all your vehicles in one app and have an overview of the battery status at all times.
Remote monitoring systems : Use of systems that can monitor the status of the battery in real time using Wi-Fi, Bluetooth or other wireless technologies.

Smart chargers : Using chargers that can detect charge levels and adjust accordingly to avoid overcharging and extend battery life.

Battery management systems (BMS) : A BMS can help monitor the health of each battery in the fleet, including voltage, temperature and state of charge.
HOOTS WLAN Battery Guard
HOOTS battery monitor with WiFi for 6V 12V 24V
HOOTS BATTERY was specially developed according to customer requirements and is an innovative tool for battery monitoring of 6V 12V 24V vehicle batteries. In addition to the battery voltage, the power consumption in amperes as well as humidity and temperature can be measured and saved. This means you can keep an eye on all important data if your car is parked for a long time. Optionally, the WLAN Battery-Guard automatically warns when limit values ​​are reached via email or push. This means there will be no more unpleasant surprises the next time you try to start.
Instruction manual PDF
suitable vehicle electrical system voltage/current carrying capacity
Ambient temperature / ambient humidity
Automatic alert notification via email
permanent current draw/load
short-term exposure for 5 seconds
Fastening / negative pole, ground
Maximum power consumption
Send interval
Battery values ​​via WLAN every 6 hours
Power consumption per transmission frequency
briefly 20 mA per data update
Installation of HOOTS BATTERY
HOOTS BATTERY is installed between the negative terminal of the battery and the ground of the vehicle.
Please only connect the RED cable with the cable lug to the positive pole of the battery.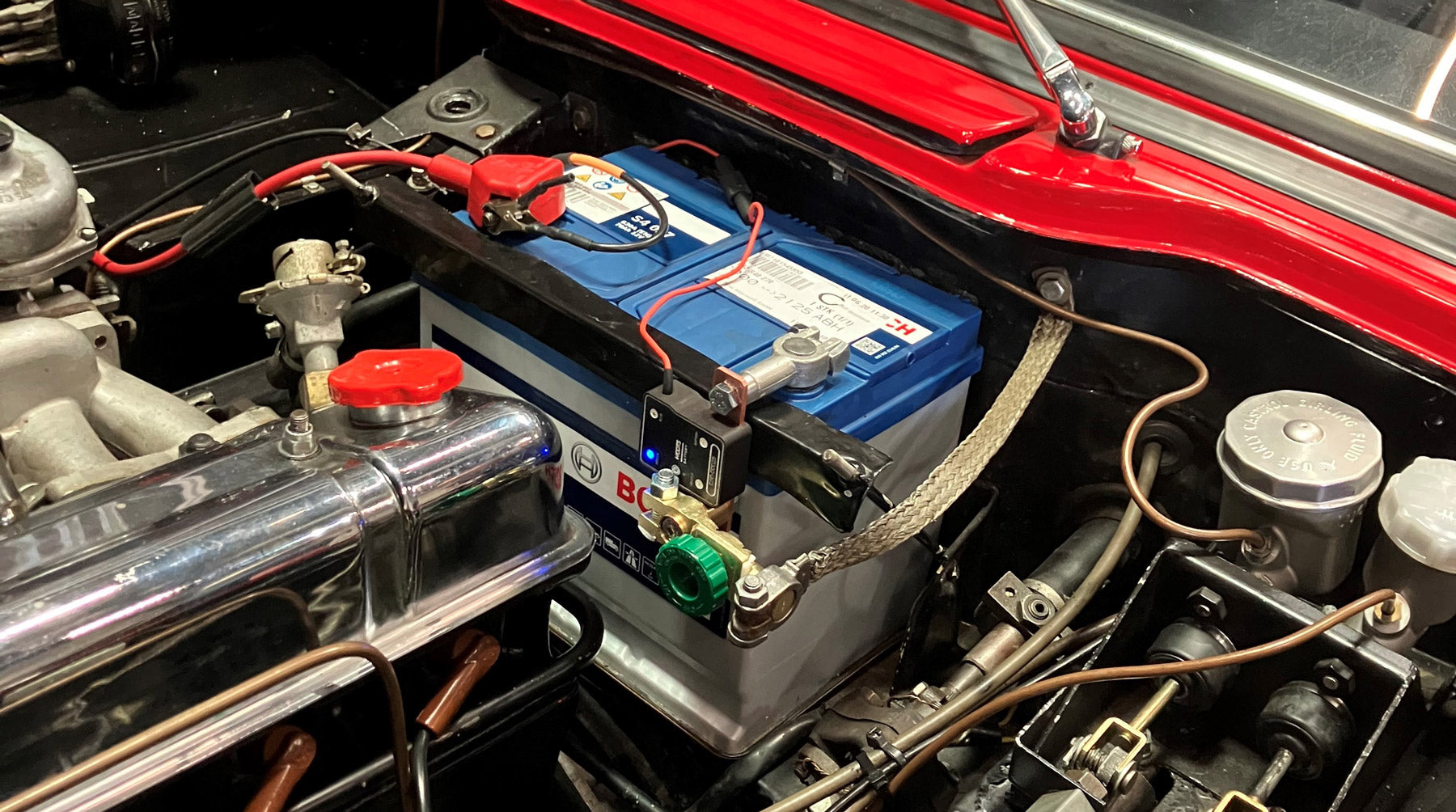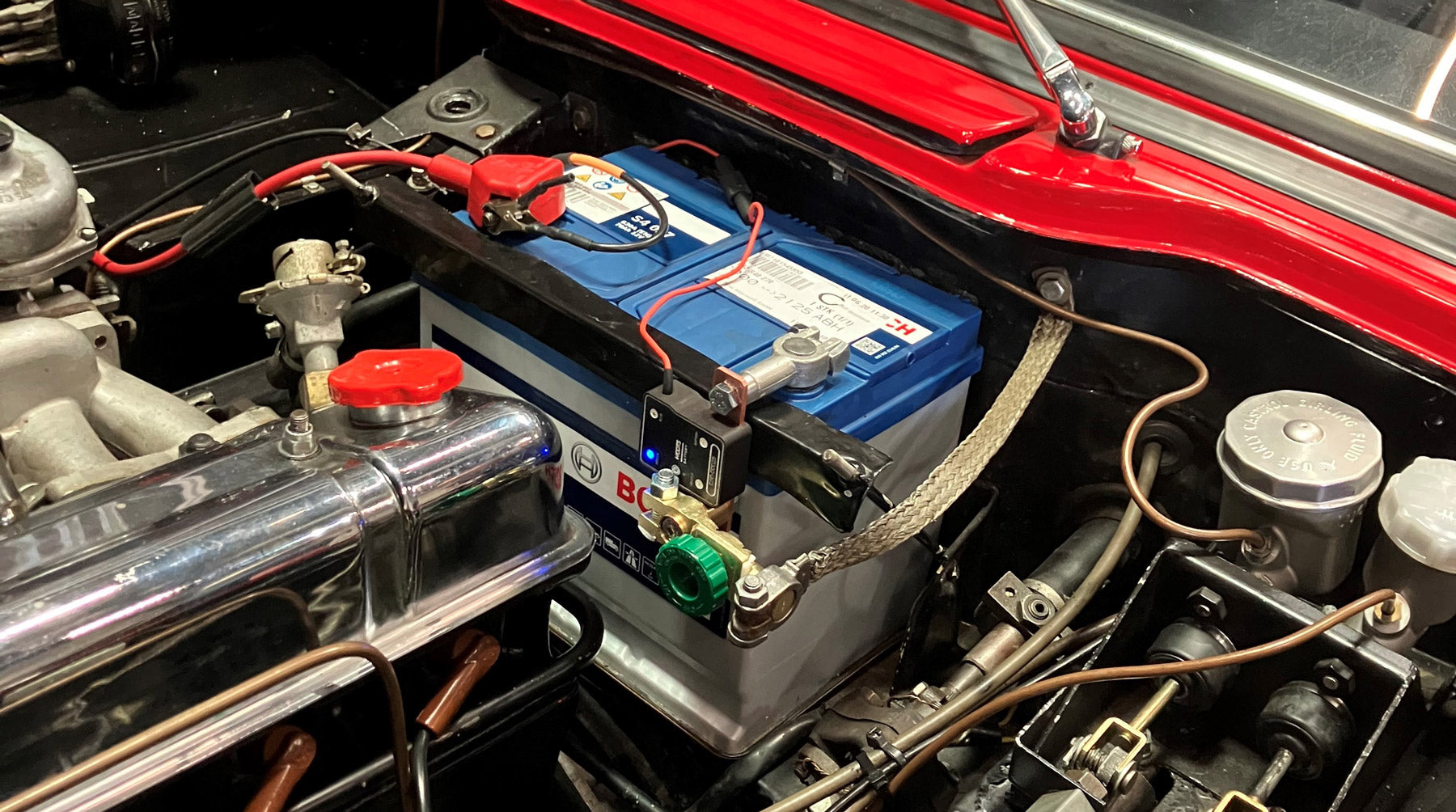 HOOTS battery disconnect switch/master switch
HOOTS BATTERY also works with a circuit breaker
HOOTS front pole adapter
Front pole adapter clamp for HOOTS battery monitor on the negative pole
HOOT'S BATTERY
HOOTS BATTERY System Installation
positive pole
red power cable on the battery positive pole
Ground strap
Negative pole on the ground strap or body
Do you have questions about the HOOTS BATTERY system? We'll be happy to answer!
Our team is available to answer any questions you may have.

Telephone: +49 (0) 351 81041406
Email: battery@hoots.de
Our support hours are Monday to Friday: 9:00 a.m. - 5:00 p.m
Which radio connection do I need?

HOOTS BATTERY is set up and the live data is displayed via Bluetooth. The stored data is sent to the BATTERY Cloud via WLAN.
How is HOOTS BATTERY installed?

HOOTS BATTERY is installed between the ground terminal (negative terminal) of the battery and the ground point (black/brown ground cable) on the vehicle.
In addition, a cable is attached to the positive pole of the battery using a cable lug. Suitable mounting material and optional connection options can be purchased in the shop.

IMPORTANT: HOOTS BATTERY must be installed in front of a circuit breaker / main switch and be permanently connected to the positive and negative poles of the battery.
Does HOOTS BATTERY have reverse polarity protection?

Yes, but if you swap the negative and positive poles, the device will not work.

Under no circumstances should you mount the negative pole and the positive pole at the respective ends of the copper shunt!
How long can the data be stored?

You can view the battery data for up to 3 months in the data cloud free of charge.
Is an additional power supply necessary?

No, HOOTS BATTERY is powered by the battery. The current consumption is only 20 MüA, so the battery is not discharged.
Which batteries is HOOTS BATTERY approved for?

For all vehicle batteries from 6V, 12V to 24V. Both lead,
Gel, or AGM batteries can be monitored. Li-ION batteries can also
be monitored.
What is the quiescent current of the HOOTS BATTERY system?

The battery monitor has a monitoring mode with a current consumption of 0.3 mA.
Battery monitor 12 V shutdown with HOOTS BATTERY?

Security system: It is not possible to switch off the vehicle battery remotely, but HOOTS BATTERY will show you the WLAN status. If the vehicle is no longer connected, it has either been removed or the WiFi is not working.
Can I read the battery parameters without WiFi?
Monitoring the battery charger/maintenance device with HOOTS

HOOTS BATTERY also works with a connected battery charger or battery maintenance device such as CTEK. You can safely monitor the battery charging process (volts, amps, temperature) remotely via WiFi or monitor/control the charger on the vehicle via Bluetooth.
Can I also use HOOTS BATTERY with a circuit breaker / main switch?

HOOTS BATTERY also works with circuit breaker / main switch. However, the circuit breaker must be connected after the HOOTS BATTERY system. As long as HOOTS BATTERY has a direct connection to the negative and positive poles of the battery, you can continue to use it
Measure battery voltage (volts), device temperature and humidity even with the circuit breaker flipped.
What current load is the HOOTS BATTERY measuring shunt designed for?

HOOTS BATTERY is designed for a permanent current draw of 200 amps or a short-term load of 5 seconds with 1000 amps.
What power consumption occurs when transmitting system data via WLAN / cloud?

The system briefly requires 20 mA to transmit the system data to the cloud or to the WLAN network.
Can the HOOTS BATTERY also be connected to the high-voltage network of an electric vehicle?

No, commissioning in the high-voltage electrical system is expressly not possible and will result in damage to the battery monitor and possibly a defect in the vehicle.
Can I also use HOOTS BATTERY with built-in battery terminal clamps or clamp clamps?

As long as HOOTS BATTERY has a direct connection to the negative and positive poles of the battery, you can continue to use it
Measure battery voltage (volts), device temperature and humidity.
We recommend using circuit breakers/main switches for this.
Our support hours are Monday to Friday: 9:00 a.m. - 5:00 p.m